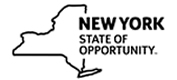 Professional Geologist 1
Online Test Held During

August 2022

*Application and Test MUST Be Submitted Online By

August 31, 2022
*There is no written multiple-choice test. The online questionnaire IS YOUR TEST.
Interdepartmental promotion examination open to all qualified employees of New York State.
For Promotion in State Departments, Facilities, and Agencies
1. Within Promotion Units 2. Within Entire Departments 3. To Other Departments
The Positions: These positions exist in the Department of Transportation and the Department of Environmental Conservation and are located statewide.
Minimum Qualifications
On or before August 1, 2022, you must be a qualified employee of New York State and have had three months of permanent competitive or 55-b/55-c service as an Assistant Geologist or Engineering Geologist 1.
This examination has special minimum qualifications in addition to the usual ?time in service requirement?: A New York State Professional Geologist?s license and current registration at the time of appointment.
Only the title or titles listed are qualifying.
If you were permanently appointed to a qualifying title on or before May 1, 2022, and have served continuously in this title since that date, you are eligible to file for this examination.
Qualifying Experience For Appointment From The Eligible List: After one year of the service described in the Minimum Qualifications, successful candidates will be qualified for appointment from the eligible list.
Continued Employment: Continued employment as a Professional Geologist 1 is dependent upon continued possession of a New York State Professional Geologist's license and current registration (does not apply if you meet above note of NYSED exemption). Failure to maintain your New York State license and registration may result in removal from the Professional Geologist 1 title. Information regarding New York State professional geologist licensing may be obtained by writing to: NYS Office of the Professions, 89 Washington Avenue, Albany, New York 12234-1000; Voice: (518) 474-3817 press 1 then ext. (140); Email Geology@nysed.gov; Fax (518) 473 6282.
In accordance with New York State Education Law 7208.a.5, if you were employed by New York State on November 21, 2016 in a position where you performed geologic services (as defined in the scope of practice of geology in this statute), you are exempt from the requirement of having a New York State Professional Geologist?s license and current registration. This exemption will be confirmed by the hiring agency at the time of appointment.
Duties
As a Professional Geologist 1, in addition to the duties performed by Assistant Geologists, you would be responsible for analyzing the results of investigations, field or laboratory procedures, geologic reports, and geophysical data; making recommendations pertaining to rock slope designs and foundation designs of structures; evaluating the suitability of blasted bedrock for use as stone-filling and riprap; preparing specifications and developing testing and quality assurance for mineral aggregates; investigating and resolving problems relating to aggregate performance; supervising laboratory and field testing of soils and aggregates; supervising petrographic determinations and making geologic recommendations on aggregate applications and the performance of aggregate in pavements, concrete, and other engineered applications; and performing studies to improve methods and equipment used in geological studies. You may plan and evaluate hydrogeological investigations of waste disposal sites that may include developing investigation work plans for dissolved and free phase containment migration in overburden and bedrock aquifers; interpretation of drilling logs, well construction diagrams and borehole geophysics; determining the influence of stratigraphy on containment migration; evaluating mass transport of containments in saturated media; determining the influence of transmissivity, dispersion and geochemistry on containment degradation and application of remediation technologies; use of Global Positioning Systems (GPS) and/or Geographic Information Systems (GIS) and/or remote sensing instruments, techniques and software; interpreting historical land use, land forms or environmental conditions from imagery, maps or other records to assess containment locations; use of computer modeling and statistical interpretation of environmental data. You may also evaluate the development of proposed and management of existing groundwater and surface water supplies; assessment of water supply pumping tests; perform aquifer determinations; conduct soil and groundwater quality evaluations; develop and/or analyze geologic and hydrogeologic investigations, reports, studies and management plans; regulate water well contractors; and communicate with the public and industry professionals regarding groundwater and water supply issues. Duties may be performed in the field on projects and job sites, in the office, and/or in a laboratory. You may supervise subordinate technical, geologist, administrative or support staff as required.
Note: This examination is being held on a promotion and open-competitive basis. If you are admitted to the promotion examination under anticipated eligibility (i.e., you do not have the required one year of Qualifying Experience For Appointment From The Eligible List) and if you meet the open-competitive minimum qualifications, you may also be admitted to the open-competitive examination. To be admitted, you must apply for the open-competitive examination according to the instructions given on the open-competitive announcement. Once you meet the required one year of qualifying service for appointment form the promotion list, you will not be eligible for appointment form the open-competitive eligible list.
Subject of Examination
*There is no written multiple-choice test.
To be considered for appointment to this title, you must pass an online test. The online test consists of a questionnaire that asks questions about your education, training, and work experience. This online questionnaire IS YOUR TEST and should be completed after submitting your application. The online test can be accessed by clicking on the following link: https://tms.cs.ny.gov/TestDriver/Login/Login.aspx.
Responding to these questions, and submitting your questionnaire, is required to complete the examination process. You will not receive a score on this test unless you complete and submit the online questionnaire. You must complete the test by 11:59 pm on August 31, 2022.
The answers you provide to the questions will be used to rate and score your test against the general requirements of the position(s). To prepare, it may be helpful to have dates of completed education and work experience available as you answer questions. It is recommended you use a personal computer or personal laptop to complete your online test.
Your final score must be 70 or higher to pass. Your final score on the eligible list will be determined after adding any wartime Veterans' and Civil Service Law Section 85-a credits.
Credit for Seniority: Seniority will be given due weight in the evaluation of education and experience.
Applicants are required to have a Personal NY.gov account and keep their email address up to date. The Department of Civil Service and other state agencies will communicate with you through email correspondence. This may include the notification of your test arrangements, examination results, and canvassing you for interest in appointment. It will be important for you to keep your email address, phone number, and mailing address current by logging into https://www.cs.ny.gov/home/myaccount.
How To Apply
This announcement is for viewing purposes only.
Important: Unless waived, you must pay the non-refundable processing fee. For information on fee waivers, visit https://www.cs.ny.gov/examannouncements/types/oc/appinfo.cfm##Fee. Any past due application processing fees must be paid in full prior to submitting an application. Please email FeeUnitMail@cs.ny.gov regarding inquiries about any past due fee. It is important that you verify that you entered the correct examination number and title on your online or paper application prior to submitting. If you apply online, you should immediately review your email confirmation notice to verify that you applied for the correct examination.
Additional Information
New York State is an Equal Opportunity Employer
It is the policy of the State of New York to provide for and promote equal opportunity employment, compensation, and other terms and conditions of employment without unlawful discrimination on the basis of age, race, color, religion, disability, national origin, gender, sexual orientation, veteran or military service member status, marital status, domestic violence victim status, genetic predisposition or carrier status, arrest and/or criminal conviction record, or any other category protected by law, unless based upon a bona fide occupational qualification or other exception.
Reasonable Accommodations in Testing
It is the policy of the Department of Civil Service, in accordance with the New York State Human Rights Law and the Americans with Disabilities Act, to provide qualified persons with disabilities equal employment opportunity and equal opportunity to participate in and receive the benefits, services, programs, and activities of the Department. It is the policy of the Department to provide such persons reasonable accommodations and reasonable modifications as are necessary to provide equal opportunity. Persons with disabilities who require an accommodation to participate in an examination must note this on their application. Further information is available from the Test Administration Unit of the Department of Civil Service. In the Albany area, call 518-457-2487. Outside of the Albany area, call toll free at 1-877-697-5627. For TDD services, call NY Relay at 711 (requires a fee) or 1-800-662-1220.
Eligibility for Examination
To be considered a qualified employee eligible to compete in this examination, you must be employed in, or on leave from, the specified department or agency on a permanent or contingent permanent basis in the competitive class, or in the non-competitive class or labor class if specifically noted on this announcement (or be on an appropriate preferred list), and have the specified time in the specified title or salary grade. You may not compete in a test for a title if you are permanently employed in that title (unless you are still on probation) or in a higher direct line of promotion.
S2/TC3 LAK-klr
Issued: 8/1/22
*Revised Material: 8/15/22
This announcement is subject to amendment or cancellation without notice. Do not copy it, or post it to any other site, but link to it instead.