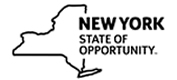 New York State Department of Civil Service announces Continuous Recruitment Examination Open to All Qualified Individuals
Bank Examiner
Applications Accepted

Continuously

Tests To Be Held

Periodically
Download Announcement(
63KB)
Exams Included on This Announcement

| Exam Number | Exam Title | Salary Grade | Salary | Job Rate |
| --- | --- | --- | --- | --- |
| 20-517 | Bank Examiner | G-20 | $59,839 | $75,102 |
* Salaries include a $3,026 annual downstate adjustment.
Most positions are in New York City, however some may exist in various upstate locations..
NO APPLICATION PROCESSING FEE REQUIRED
Minimum Qualifications
On or before the date of filing your application, you must have a bachelor's degree and three years of industry or regulatory experience as defined below:
Industry experience is defined as technical and/or supervisory experience in the United States as an employee or officer of a bank, savings bank, trust company, private bank or savings and loan association, a foreign bank's licensed branch or agency, a public accounting firm, a bank or securities rating agency, a securities firm, an investment bank, an insurance company, a mortgage bank, a commercial lending company, or other similar financial services organization.
This experience must have been gained in any one or combination of the following: 1) as a trust officer with management or investment authority over estates and/or trusts or in trust operations, trust administration, or the audit and review of trust administration and fiduciary activities at a banking organization; 2) as an accountant with ongoing responsibility for the design, implementation, and review of accounting systems; 3) as an internal auditor with responsibility for conducting a full range of operational or financial audits, excluding those of retail functions; 4) as a person responsible for credit analysis of commercial loans and/or securities investments; 5) as a person responsible for the review and analysis of debt or equity instruments issued by financial institutions; 6) as a person responsible for the review and analysis of the financial condition of banks; 7) as a person with authority to approve commercial loans, residential or commercial mortgages, or make securities investments; 8) as a person responsible for compliance with banking law and regulation, including consumer protection laws, the Bank Secrecy Act, the Community Reinvestment Act, and fair lending statues; 9) as a person responsible for conducting, managing, analyzing, or auditing the trading, underwriting, hedging, and/or risk management of capital market instruments by banks or other financial institutions; 10) as a person responsible for financial and/or operational risk assessment; 11) as a person responsible for developing, analyzing, managing, or auditing the operations of IT systems at a bank or other financial institution (experience as a programmer or systems administrator will NOT be considered qualifying); or 12) as a person responsible for the development of internal controls for financial and operational systems.
Regulatory experience is defined as an employee of a bank regulatory agency in the United States where the primary responsibility is in the examination or supervision of banks, trust companies, savings banks, savings and loan associations, credit unions, foreign agencies, foreign branches, or investment companies affiliated with a bank, savings bank, trust company, mortgage lender, or savings and loan.
Experience which will NOT be considered qualifying includes, but will not be limited to, duties confined solely to: clerical or administrative operations; operating equipment (such as bookkeeping machines and various types of automation equipment); bank teller duties; routine posting or review of accounting records; sales, marketing, or business development activities; investment advisory or portfolio management services rendered to individuals; documentary processing or reconciliation; bank insurance; and experience as a programmer or system administrator.
Experience gained in a management training program will NOT be considered qualifying experience.
Notes
Appropriate part-time experience will be accepted on a prorated basis.
New York State residence is not required.
This examination is being conducted by the New York State Department of Financial Services under authority delegated by the Department of Civil Service in compliance with the New York State Civil Service Law and the rules and regulations of the New York State Department of Civil Service.
Because these positions require substantial travel, appointees must possess a valid license to operate a motor vehicle in New York State or otherwise demonstrate their ability to meet the transportation needs of the job in carrying out their responsibilities in any location to which travel is required, including some locations not accessible by public transportation. Field work travel expenses will be reimbursed on a fixed schedule.
Your degree must have been awarded by a regionally accredited college or university or one recognized by the NYS Education Department as following acceptable educational practices. If your degree was awarded by an educational institution outside the United States and its territories, you must provide independent verification of equivalency. You can write to the Examination Information Desk of the Department of Civil Service for a list of acceptable companies who provide this service. You must pay the required evaluation fee.
The Positions
These positions exist in the New York State Department of Financial Services in New York City and may exist in various upstate locations.
Duties
As a Bank Examiner, you would conduct or assist in the safety and soundness and/or compliance examinations and supervision of financial institutions and other regulated businesses under the supervision of the New York State Department of Financial Services and perform related duties as required.
Subject of Examination
There will be no written test. The test will consist of an evaluation of your education and experience against the range of duties and responsibilities found in these positions.
If you meet the Minimum Qualifications you will be sent a supplemental questionnaire to complete and return. This form will be mailed after the preliminary review of your application. When positions are to be filled, your answers to the questionnaire will be matched and weighted according to the requirements of each position. Ratings will be based on such factors as:
Relevance of professional experience
Level of professional experience
Undergraduate and graduate education
Professional license and certifications
The information supplied on the questionnaire will be evaluated in relation to the duties and responsibilities of the positions. All statements concerning education and experience are subject to verification. If references fail to respond or they give contradictory information, you may be called upon to furnish written verification of your claimed education and experience. Permanent appointments may be made before education and experience is verified. False statements or lack of proper verification may result in the revocation of such appointments.
Your final score must be 70 or higher in order to pass. Rank on the eligible list will be determined after adding any wartime veterans' and Civil Service Law Section 85-a credits to your final passing score.
How to Apply
Download the examination application NYS-APP form; or
Email cs.sm.examinfo@cs.ny.gov to request NYS-APP form; or
Obtain NYS-APP form from a State agency or facility personnel/business office; or
Request NYS-APP form by calling the Department of Civil Service in the Albany area at 518-457-2487 [press 2, then press 3]; or toll free at 1-877-697-5627 [press 2, then press 3].
Where to Apply
Mail your completed application to:
New York State Department of Financial Services, Human Resources Office, One State Street, New York, NY 10004-1417.
The NYS Department of Financial Services reserves the right to reject for lateness or to accept applications filed after the advertised filing period. All statements you make on your application are subject to investigation. Do not use interagency mail.
The NYS Department of Financial Services has an ongoing need for persons qualified for appointment to these positions and will accept applications at any time and will rate applications whenever additional eligibles are needed. It is anticipated that the examinations will be held on a periodic basis throughout the year. For the testing schedule and other information about this examination, write to the NYS Department of Financial Services at the address above or call 212-709-5448.
Retest Policy
Qualified candidates may file as frequently as once every twelve months, but a new application is required each time.
Additional Information
New York State is an Equal Opportunity Employer
It is the policy of the State of New York to provide for and promote equal opportunity employment, compensation, and other terms and conditions of employment without discrimination on the basis of age, race, color, religion, disability, national origin, gender, sexual orientation, veteran or military service member status, marital status, domestic violence victim status, genetic predisposition or carrier status, or arrest and/or criminal conviction record unless based upon a bona fide occupational qualification or other exception.
Appointment to many positions in State government require candidates to undergo an investigative screening. This may include a thorough character investigation, a Federal Bureau of Investigation Criminal Record History Check, a Child Abuse Registry clearance, or other similar procedures. Candidates may be fingerprinted and may be required to pay any necessary fees for that procedure. Depending on the nature of the job, the criminal convictions discovered, or any falsified or omitted information revealed, the investigative findings may bar appointment or result in removal after appointment.
Eligibility for Employment
You must be legally eligible to work in the United States at the time of appointment and throughout your employment with New York State. If appointed, you must produce documents that establish your identity and eligibility to work in the United States, as required by the federal Immigration Reform and Control Act of 1986, and the Immigration and Nationality Act.
Reasonable Accommodations in Testing
It is the policy of the Department of Civil Service, in accordance with the New York State Human Rights Law and the Americans with Disabilities Act, to provide qualified persons with disabilities equal employment opportunity and equal opportunity to participate in and receive the benefits, services, programs, and activities of the Department. It is the policy of the Department to provide such persons reasonable accommodations and reasonable modifications as are necessary to provide equal opportunity. Persons with disabilities who require an accommodation to participate in an examination must note this on their application. Further information is available from the Test Administration Unit of the Department of Civil Service. In the Albany area, call 518-457-2487. Outside of the Albany area, call toll free at 1-877-697-5627. For TDD services, call NY Relay at 711 (requires a fee) or 1-800-662-1220.
New York State Residence Is Not Required For Most Positions
However, you must be eligible for employment in the United States.
Continuous Recruitment/Eligible Lists
Candidates who meet the qualification and pass this examination will have their names placed on the eligible list in the order of final scores, regardless of the date on which they filed or took the test. Generally, the names of qualified candidates will remain on the eligible list for one year. Appeal of ratings will not be allowed as the opportunity for retest exists. The Department of Civil Service reserves the right to terminate this special recruitment program.
S4 LSS-tmc
Reissued: 11/11
This announcement is subject to amendment or cancellation without notice. Do not copy it, or post it to any other site, but link to it instead.