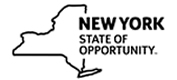 Assistant Training Technician (Youth Services)
Evaluation of Training and Experience To Be Held During

April 2019

Applications Must Be Submitted or Postmarked By

February 20, 2019
NO APPLICATION PROCESSING FEE REQUIRED
Appointees who work in the five boroughs of New York City or in Nassau, Suffolk, Rockland, or Westchester Counties will receive an additional $3,026 annual downstate adjustment. Appointees who work in Dutchess, Orange, or Putnam Counties will receive an additional $1,513 annual mid-Hudson adjustment.
Minimum Qualifications
On or before the date of filing your application, you must have been responsible for conducting at least fifty hours of formal training* to direct care staff in topics that directly relate to the work of direct care staff, including but not limited to, trauma-informed care, First Aid/CPR/AED, crisis prevention and management, and suicide risk reduction; AND
You must have two years of experience providing direct care services for individuals between the ages of 10 and 21 years of age who are generally considered to be ?juvenile delinquents,? ?youthful offenders,? or youth residing in a residential setting which may include youth who are diagnosed with mental or developmental disabilities, mental illness, or addictions who could potentially become involved in the juvenile justice system.
*In order to be considered as formal training, the course(s) must include structured lesson plan(s) and documentation of trainees? attendance and successful completion of course(s). Training which is generic to other audiences and not directly related to the performance of job duties of the direct care staff will not be considered qualifying. Candidates meeting the minimum qualifications will be asked with a follow up questionnaire to provide verifying documentation (attendance rosters, training program completion reports).
Examples of Qualifying ?direct care services? experience includes, but is not limited to, primary work activities and responsibilities involving the care of youth in the juvenile justice system or in an institution, school, community center, youth rehabilitation program, or residential center.
Examples of Non-Qualifying ?direct care services? experience includes, but is not limited to, adoption or foster care work (including foster parenting), daycare management or providing daycare services, nursing home management or providing nursing home services, and head start program management or providing head start services.
Notes
There is no processing fee for this examination.

Background Investigation/Justice Center Review: The names of all prospective employees may be:

Checked against the Staff Exclusion List (SEL) maintained by the Justice Center for the Protection of People with Special Needs. Prospective employees whose names appear on the SEL as having been found responsible for serious or repeated acts of abuse or neglect will be barred from appointment and may have their names removed from the eligible list(s) for the title(s);
nvestigated through a Criminal Background Check (CBC). All convictions must be reported. Conviction of a felony or misdemeanor or any falsified or omitted information may bar appointment or result in removal after appointment. Each case will be determined on its own merits, consistent with the applicable provisions of state and federal laws;

and will be:

Screened against the Statewide Central Register of Child Abuse and Maltreatment (SCR). Prospective employees whose names appear on the SCR may be barred from appointment.

You will be responsible for payment of all required fees.

Appropriate part-time and volunteer experience, which can be verified, will be accepted on a prorated basis.
New York State residence is not required.
The Positions
These positions exist in the New York State Office of Children and Family Services, in locations statewide.
Duties
As an Assistant Training Technician (Youth Services), you would, under the supervision of a higher level training staff, conduct training sessions or portions thereof focusing on developing or refreshing skills of direct-care staff. You would prepare lesson plans, instructional materials, arrange classrooms, and demonstrate first aid/CPR and safety and restraint techniques. In addition, you would be required to adjust training programs to the specific needs of the staff; maintain training records; and coordinate training including space, supplies, materials, and confirm participation of co trainers and presenters. Positions located within OCFS juvenile facilities are responsible for observing facility staff in the performance of their duties for purposes of coaching in relation to physical skills interventions, agency policy, NY Model, and conducting remediation for staff not able to pass training exams; conducting one-on-one training for staff identified as being deficient in a skill set; conducting trainings; liaising with facility training coordinator in the development of training calendars to support the facility?s compliance with mandated and non-mandated trainings; and observing field trainers to provide feedback to improve their training skills.
Subject of Examination
There will be no written test. The test will consist of an evaluation of your training and experience. When you apply, you must provide complete information to show that you meet the minimum qualifications. Do NOT send resumes. If you apply using the NYS-APP form and you need more space, attach additional 8?" x 11" sheets following the same format used on the application form. Additional unsolicited information will not be accepted after the last date for filing.
If you meet the Minimum Qualifications, you will be sent a questionnaire which you MUST complete and return to the New York State Office of Children and Family Services. The questionnaire will be used to evaluate your training and experience against the general background/critical activities of the position. In addition, you will be required to provide verifying documentation of your formal training delivery experience (attendance rosters, training program completion reports). The submitted questionnaire will be the only basis for rating your training and experience.
Your final score must be 70 or higher in order to pass. Rank on the eligible list will be determined after adding any wartime Veterans' and Civil Service Law Section 85-a credits to your final passing score.
Important: The Department of Civil Service and other state agencies may communicate with you through email correspondence. This may include the notification of your examination results and canvassing you for interest in appointment. It will be important for you to keep your email address, phone number and mailing address current by logging into https://www.cs.ny.gov/home/myaccount.
How to Apply
Download the examination application NYS-APP form at http://www.cs.ny.gov/announ/applications.cfm; or
Email examinfo@cs.ny.govto request NYS-APP form; or
Obtain NYS-APP form from a State agency or facility personnel/business office; or
Request NYS-APP form by calling the Department of Civil Service in the Albany area at 518 457 2487 or toll free at 1 877-697-5627.
WHERE TO APPLY:
New York State Office of Children and Family Services, Capital View Park, 52 Washington Street, Rensselaer, NY 12144. ATTENTION: Bureau of Personnel
Additional Information
New York State is an Equal Opportunity Employer
It is the policy of the State of New York to provide for and promote equal opportunity employment, compensation, and other terms and conditions of employment without unlawful discrimination on the basis of age, race, color, religion, disability, national origin, gender, sexual orientation, veteran or military service member status, marital status, domestic violence victim status, genetic predisposition or carrier status, arrest and/or criminal conviction record, or any other category protected by law, unless based upon a bona fide occupational qualification or other exception.
Appointment to many positions in State government require candidates to undergo an investigative screening. This may include a thorough character investigation, a Federal Bureau of Investigation Criminal Record History Check, a Child Abuse Registry clearance, or other similar procedures. Candidates may be fingerprinted and may be required to pay any necessary fees for that procedure. Depending on the nature of the job, the criminal convictions discovered, or any falsified or omitted information revealed, the investigative findings may bar appointment or result in removal after appointment.
Eligibility for Employment
You must be legally eligible to work in the United States at the time of appointment and throughout your employment with New York State. If appointed, you must produce documents that establish your identity and eligibility to work in the United States, as required by the federal Immigration Reform and Control Act of 1986, and the Immigration and Nationality Act.
Religious Accommodation
Most written tests are held on Saturdays. If you cannot take the test on the announced test date, due to a conflict with a religious observance or practice, check the box under "Religious Accommodation." We will make arrangements for you to take the test on a different date (usually the following day).
Reasonable Accommodations in Testing
It is the policy of the Department of Civil Service, in accordance with the New York State Human Rights Law and the Americans with Disabilities Act, to provide qualified persons with disabilities equal employment opportunity and equal opportunity to participate in and receive the benefits, services, programs, and activities of the Department. It is the policy of the Department to provide such persons reasonable accommodations and reasonable modifications as are necessary to provide equal opportunity. Persons with disabilities who require an accommodation to participate in an examination must note this on their application. Further information is available from the Test Administration Unit of the Department of Civil Service. In the Albany area, call 518-457-2487. Outside of the Albany area, call toll free at 1-877-697-5627. For TDD services, call NY Relay at 711 (requires a fee) or 1-800-662-1220.
Admission to Examination
Notice to appear for the test may be conditional as review of applications may not be made until after the test. If you have not received your notice to appear for the written test three days before the date of the test, email us at AdmissionNotices@cs.ny.gov. Please provide your first and last name, address, and the last four digits of your social security number, and we will provide you with the information you need to attend your written test. If you have an issue other than not receiving your admission notice, please contact our office at (518) 474-6470 in the Albany area or toll free at 1-877-697-5627. Please leave a clear concise message and provide your first and last name, last four digits of your social security number and a daytime phone number.
Taking State and Local Examinations Scheduled for the Same Day
If you have applied to take a written test announced by either one or several local jurisdictions (county, town, city) scheduled to be held on the same test date as this written test, you must notify each of the local jurisdictions no later than two weeks before the test date to make arrangements for taking all tests at one test site. All tests will be held at the state examination center. For your convenience, contact information for all local civil service agencies is available on our website at: https://www.cs.ny.gov/jobseeker/local.cfm.
Cell Phones or Electronic/Communication Devices at the Test Site
Do not bring cell phones, beepers, headphones, or any electronic or other communication devices to the test site. The use of such devices at the test site in the test room, hallways, restrooms, building, grounds, or other areas could result in your disqualification.
S1/MAV-dah
Issued: 01/18/19
This announcement is subject to amendment or cancellation without notice. Do not copy it, or post it to any other site, but link to it instead.