The Empire Plan is a unique health insurance plan designed especially for public employees in New York State. Empire Plan benefits include inpatient and outpatient hospital coverage, medical/surgical coverage, Centers of Excellence for transplants, infertility and cancer, home care services, equipment and supplies, mental health and substance abuse coverage and prescription drug coverage.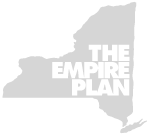 Did you know public employers can be part of the New York State Health Insurance Program (NYSHIP)
If you are a public employer, the NYSHIP Empire Plan is designed especially for you. The Empire Plan has a proven record of serving local governments and public employers throughout New York State.
In 2014, The Empire Plan is providing cost-effective, comprehensive health insurance coverage to the employees and families of approximately 800 public employers in New York State. Eligible public employers include: local/county governments and agencies, schools and school districts, libraries, utilities, fire districts, parks and more.
NYSHIP's size, comprehensive coverage, dependability and over 55 years of experience make it easy to understand why New York State public employers and their employees benefit from choosing The Empire Plan.
A Plan as Great as the Empire State
Overview: The Empire Plan for Participating Agencies | PDF Version