ARS Online Manual
Injured
To begin on the Injured page, click on the magnifying glass located to the right of the Empl Rcd field.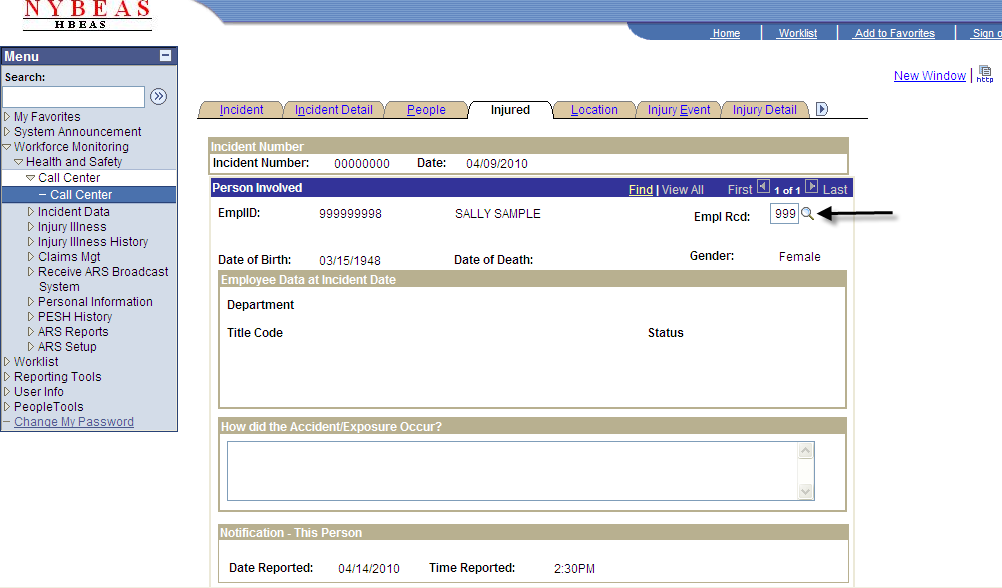 On the Lookup Empl Rcd screen, select the first Empl Rcd Nbr which is usually '0'.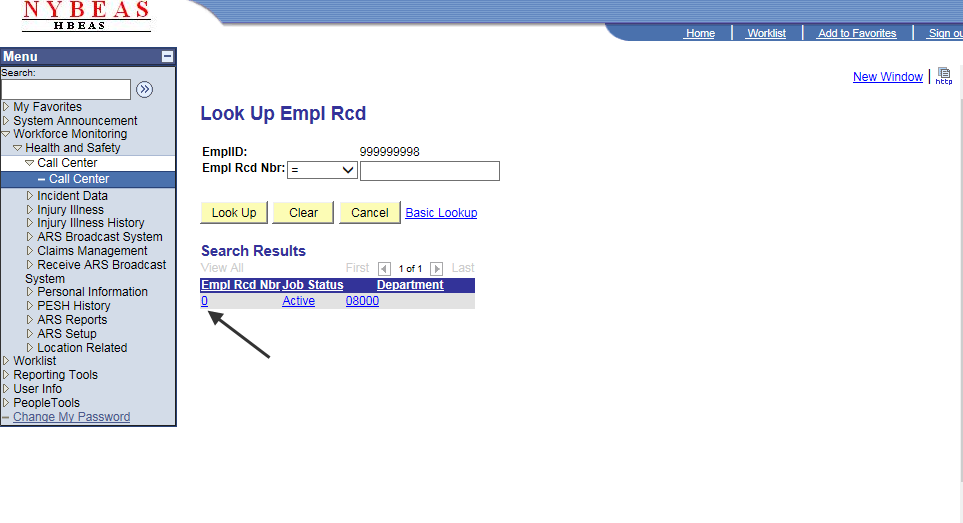 By selecting the Empl Rcd, the employee's current Department, Title Code, and Status will automatically populate.
**Important** Be sure to review the Employee Data at Incident Date for accuracy. In most cases, the Status field will be 'Active'. If the Status field is not 'Active', another acceptable Status can be 'Leave' or 'Leave W/Py'. If the Department is incorrect or the title code is incorrect, review the Lookup Empl Rcd screen to determine if a different record number needs to be selected.
The information that populates is entered in ARS from payroll records in PayServ. If a person is on leave or retired from the agency, incidents may be entered as long as the date of incident is prior to the effective date of the leave or retirement. Users may need to speak with their payroll office to verify if the dates are correct in PayServ.
If the information in the Employee Data at Incident Date box is correct, click on the magnifying glass icon next to the Location field.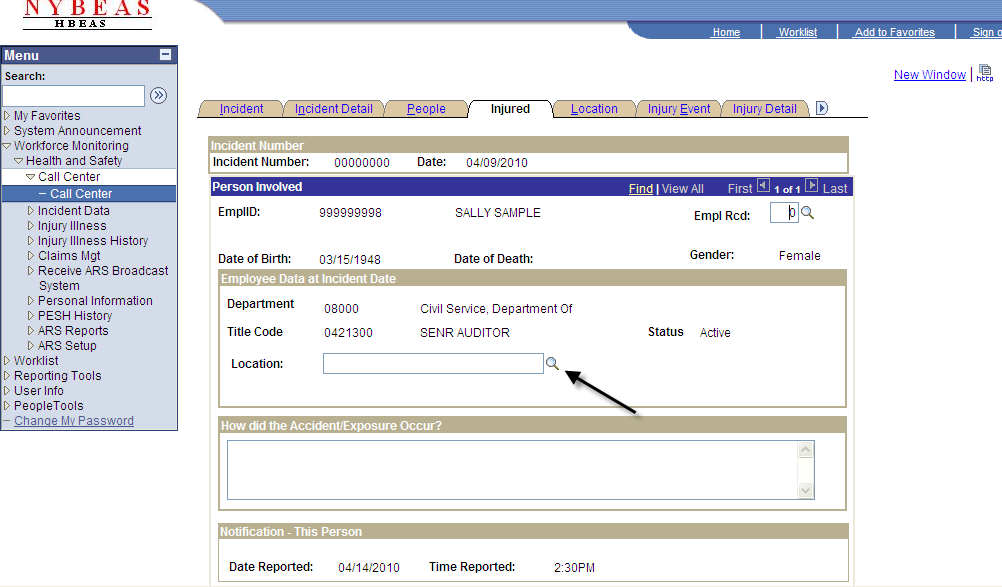 On the Lookup Location screen, a listing of sub-agencies under the enrollee's agency's location code automatically populate. Select the agency location where the employee is assigned.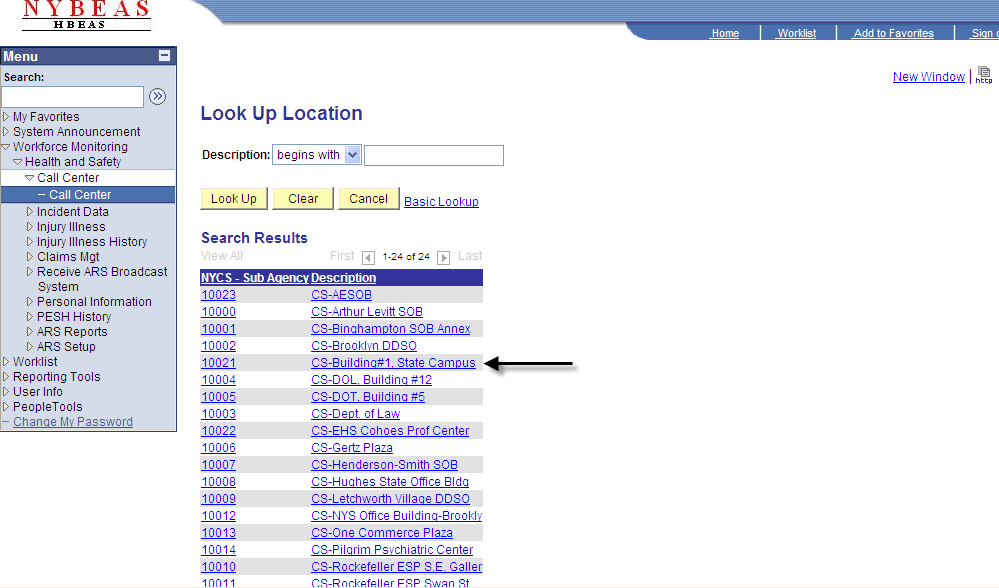 If the injured employee missed at least one full shift or work day as a result of the incident, then click Has Injured Person Lost Time Beyond Shift?.
In the How did the Accident/Exposure Occur? box, enter a brief description of how the incident occurred. Make sure to use proper sentence structure and punctuation.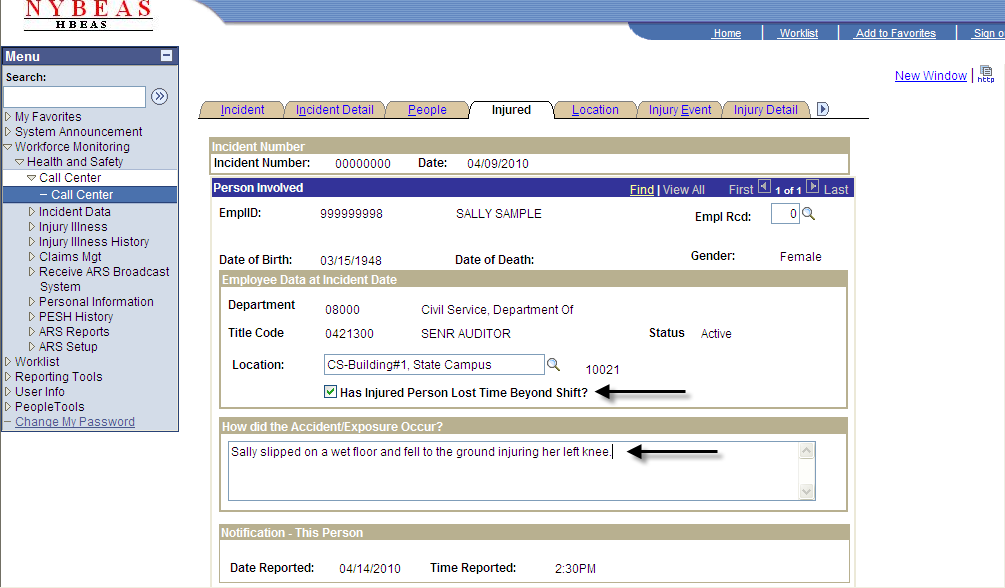 Once the Injured page is complete, select the Location page to the right of Injured.