ARS Online Manual
Injury/Illness
The pages within the Injury/Illness component of ARS provide a detailed description of a specific incident reported through the Call Center. Injury/Illness allows users to view personnel information, complete PESH reporting and complete the First Report of Injury (FROI, formerly the C-2 Employer's Report of Work-Related Injury/Illness).
According to Section 110 of the NYS Workers' Compensation Law, employers must report file a FROI (C-2) when the work-related injury or illness results in "a loss of time from regular duties of one day beyond the working day or shift on which the accident occurred, or which has required or will require medical treatment beyond ordinary first aid or more than two treatments by a person rendering first aid". The FROI (C-2) "shall be filed within 10 days after the occurrence of the accident".
In order to send a FROI (C-2) electronically to the New York State Insurance Fund, the Summary through Personnel pages of Injury/Illness must be reviewed and completed. If completion of a FROI (C-2) is not required, it is not necessary to complete the Injury/Illness pages.
Follow the instructions below in order to complete the pages within the Injury/Illness component and send the FROI (C-2).
Click on Workforce Monitoring from the side navigation Menu in ARS.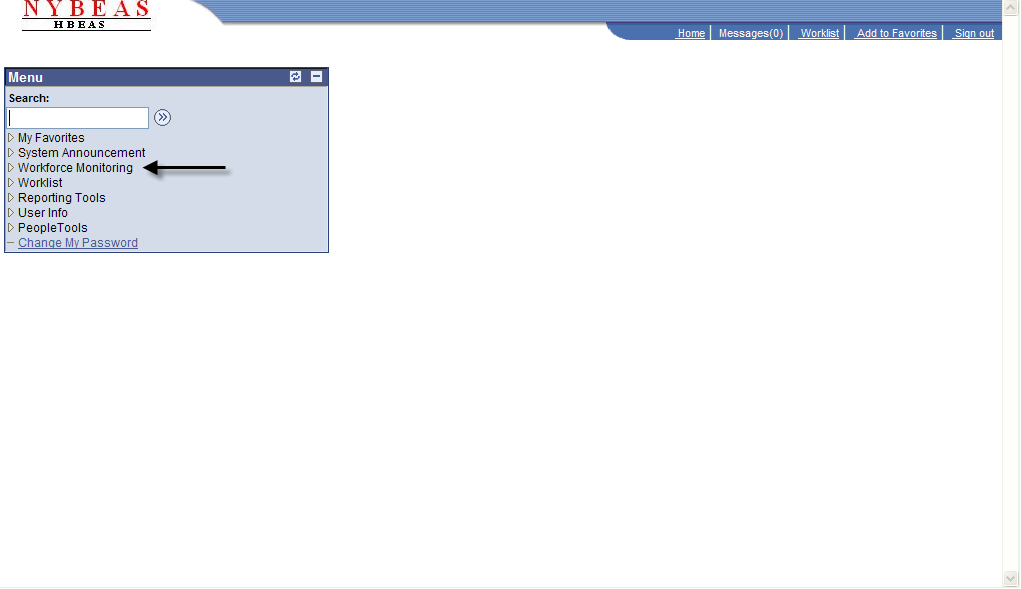 Within the Workforce Monitoring Menu, click on the folder labeled Injury Illness.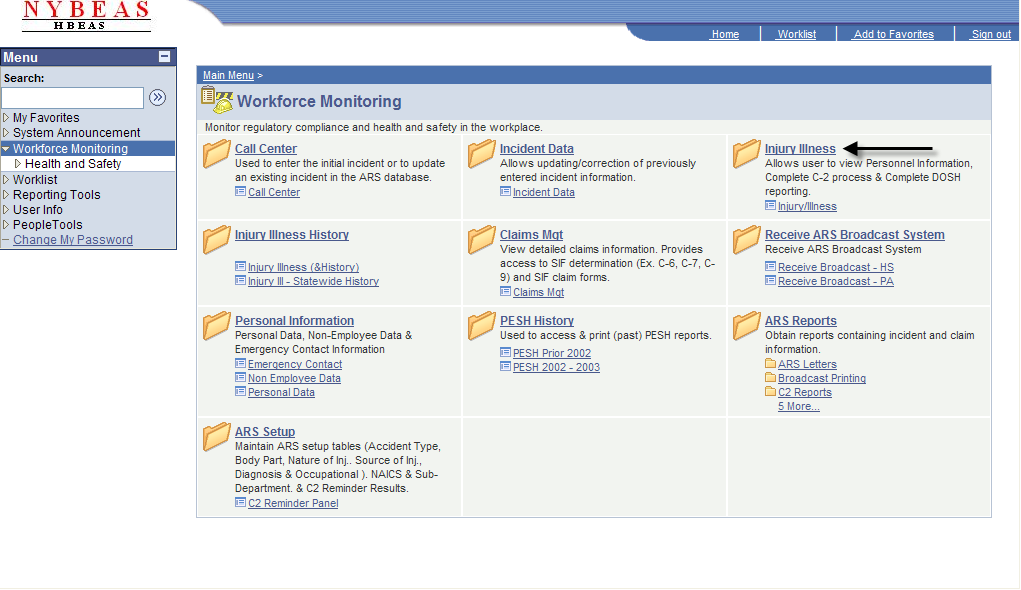 Click on Injury/Illness.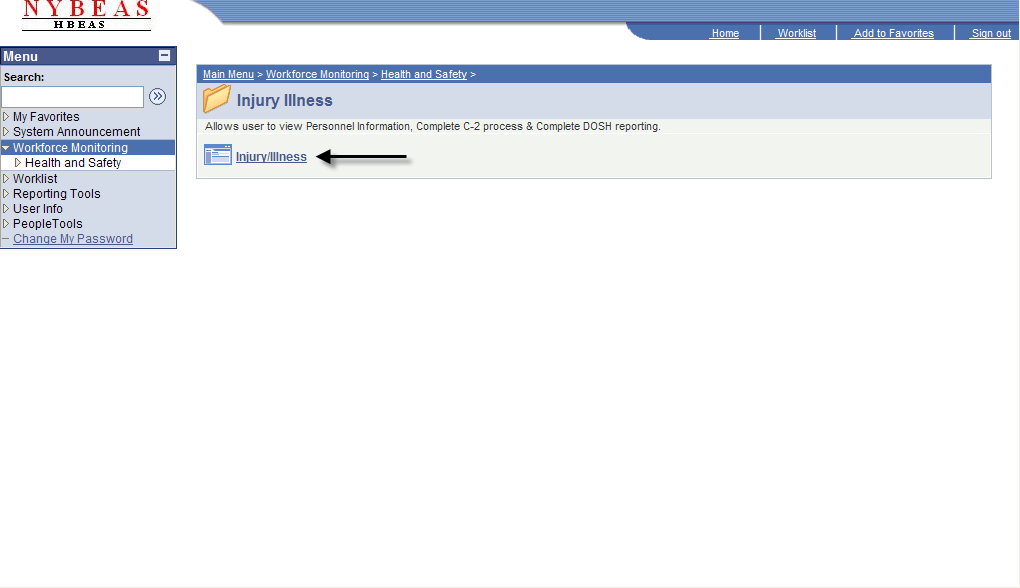 Enter the value of either the employee ID (EmplID) or Incident Number.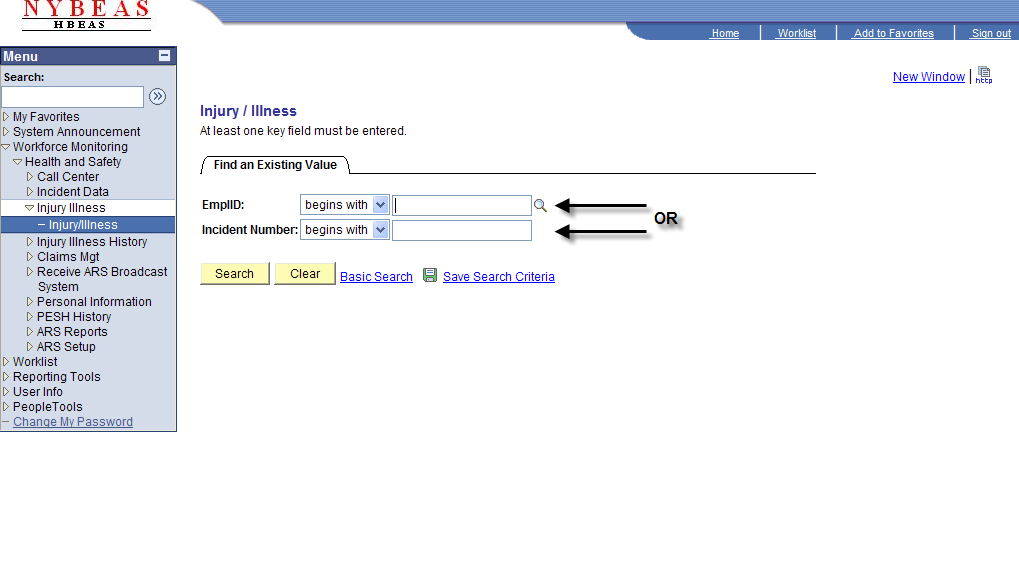 Once the EmplID or Incident Number is entered, press Search.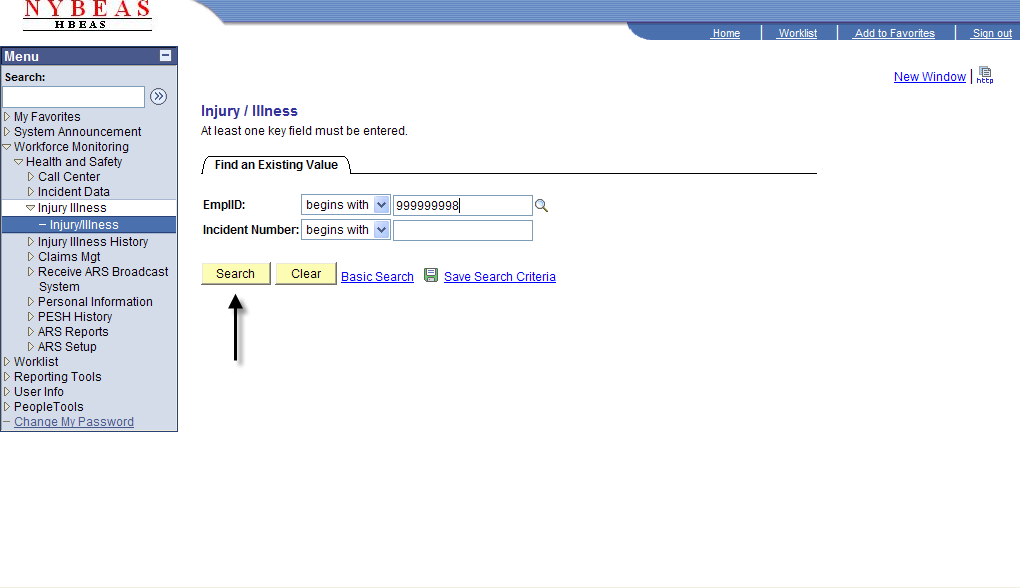 If the search is done by EmplID, there may be multiple incident numbers displayed for that employee. Click on the correct Incident Number. (Incident numbers are displayed by the employee's most recent incident reported at the top and the employee's earliest at the bottom.)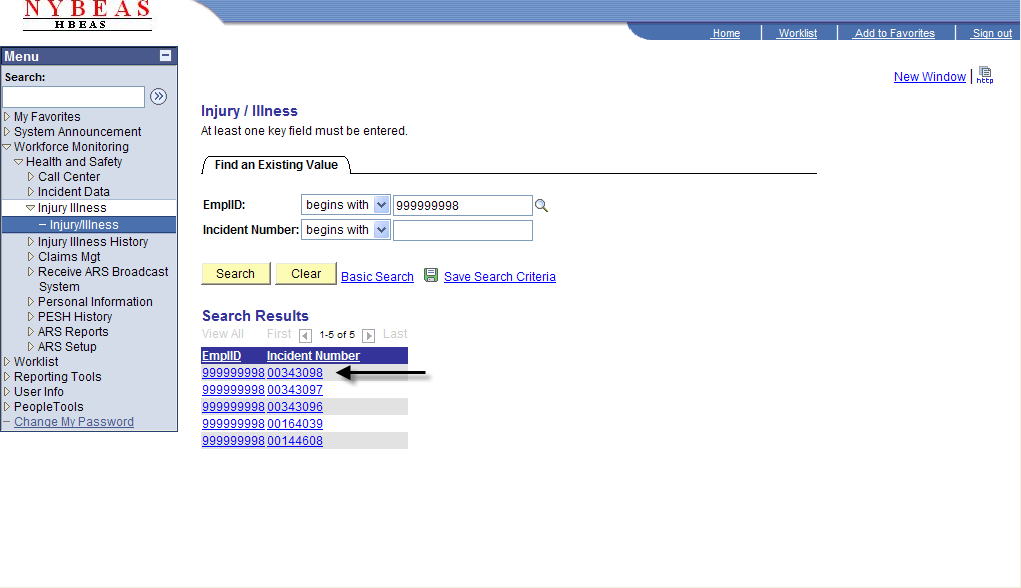 **Note** Incidents within Injury/Illness may also be accessed by viewing the Call Center Intake Worklist. Please refer to the Access Your Worklist section of the manual for further detail.
Once an incident number is entered, the following pages of Injury/Illness must be completed. Click on each link below (or in the side navigation menu) to find a step by step description of how to complete/change each page of Injury/Illness.
**Note** The PESH SH900 and Journal pages are not required to be completed in order to send the FROI (C-2).