ARS Online Manual
Incident Data
The Incident Data component of ARS is a primary area to update or correct previously entered incident information. It also provides additional areas for Health and Safety Administrators to correct and prevent any hazardous conditions which were the cause of an incident.
Certain incident information may also be updated/corrected within Call Center, Injury/Illness, and Personal Information depending upon the information being entered. See the Update/Correction Chart within this section to view what information can be changed within each component mentioned above.
**Note** Only one First Report of Injury (FROI, formerly C-2 Employer's Report of Work-Related Injury/Illness) is able to be sent for each employee of a specific incident. If it is recognized that incorrect information was sent via the FROI (C-2), it can only be deleted on the day the Send C-2 button is clicked. If you find yourself in this situation, please contact the AGS-ITS Service Desk at 1-800-422-3671 or by email at its.sm.esd.ags@its.ny.gov.
**Note** If the error is found the next business day or later, you must contact the injured employee's Case Manager at the New York State Insurance Fund in order to provide them with the correct information. Updated information can be saved to Injury/Illness, but an amended FROI (C-2) cannot be sent. The contact information for each New York State Insurance Fund satellite office can be found in the Contacts section of this ARS manual.
Once a piece of information is updated/corrected in Incident Data, it will change in Call Center and Injury/Illness as well. Follow the instructions below to information in Incident Data.
Click on Workforce Monitoring from the side navigation Menu.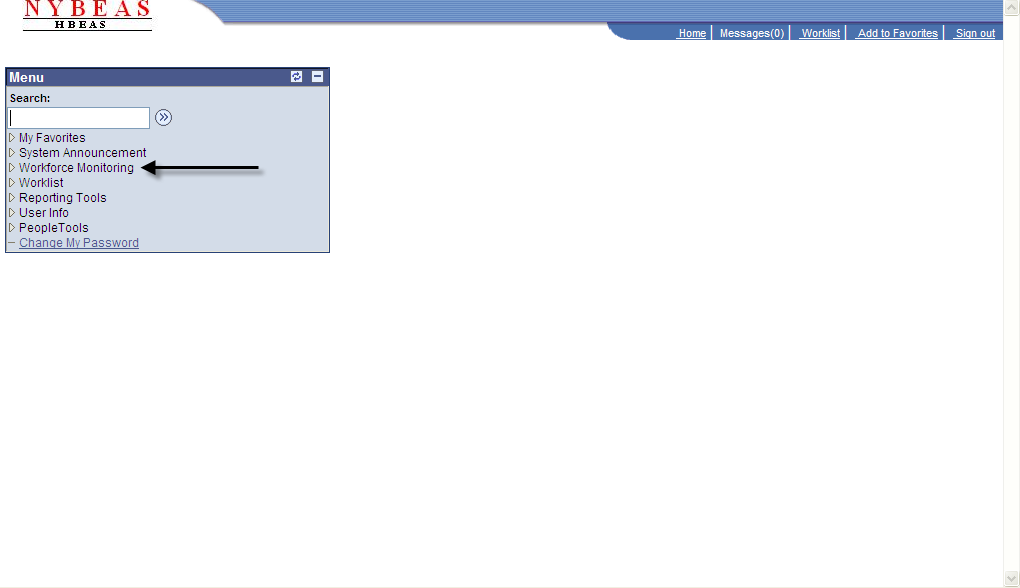 Within the Workforce Monitoring Main Menu, click on the folder labeled Incident Data.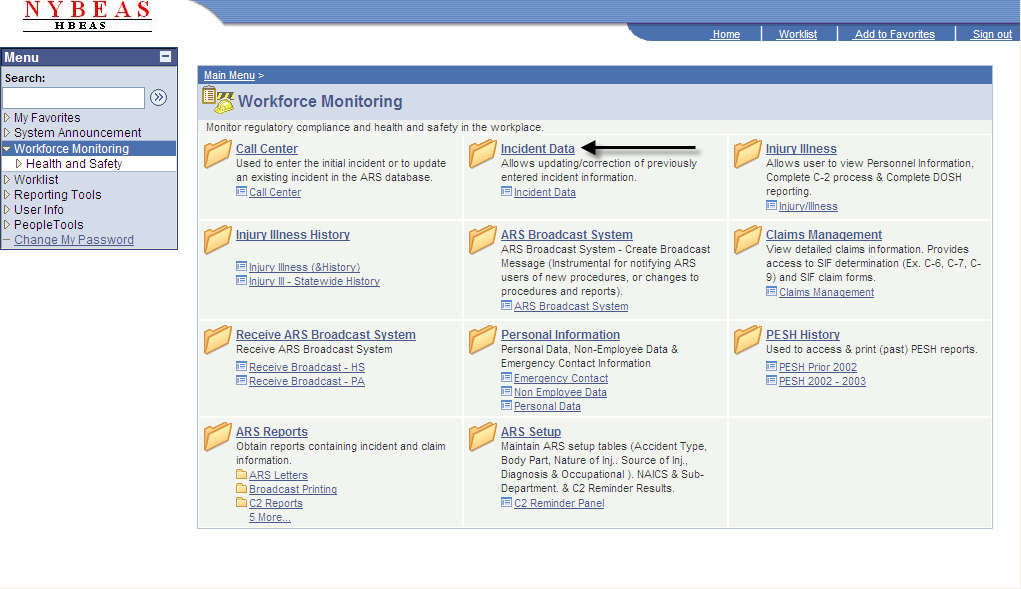 Click on Incident Data.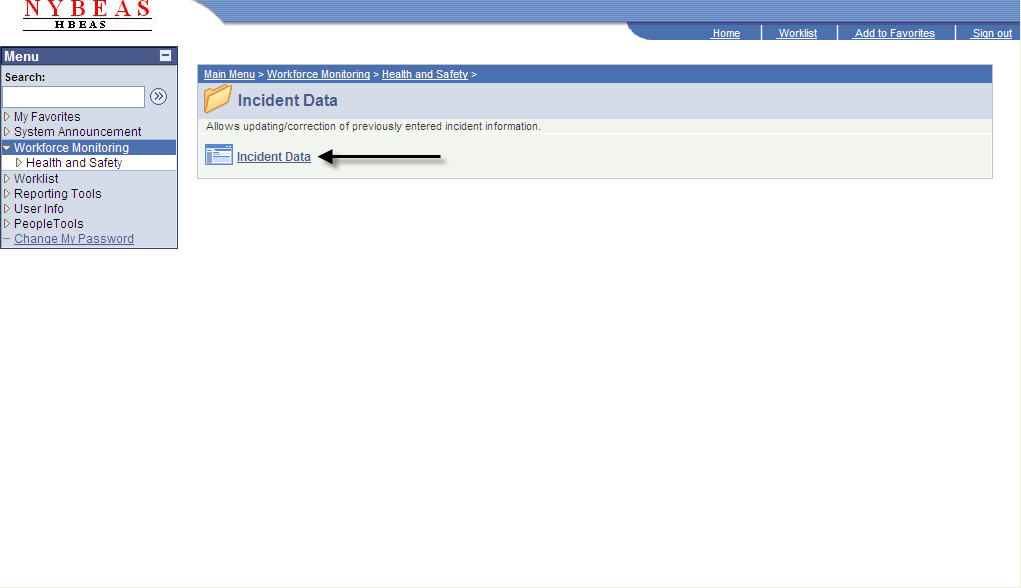 Enter the Incident Number, then press Search.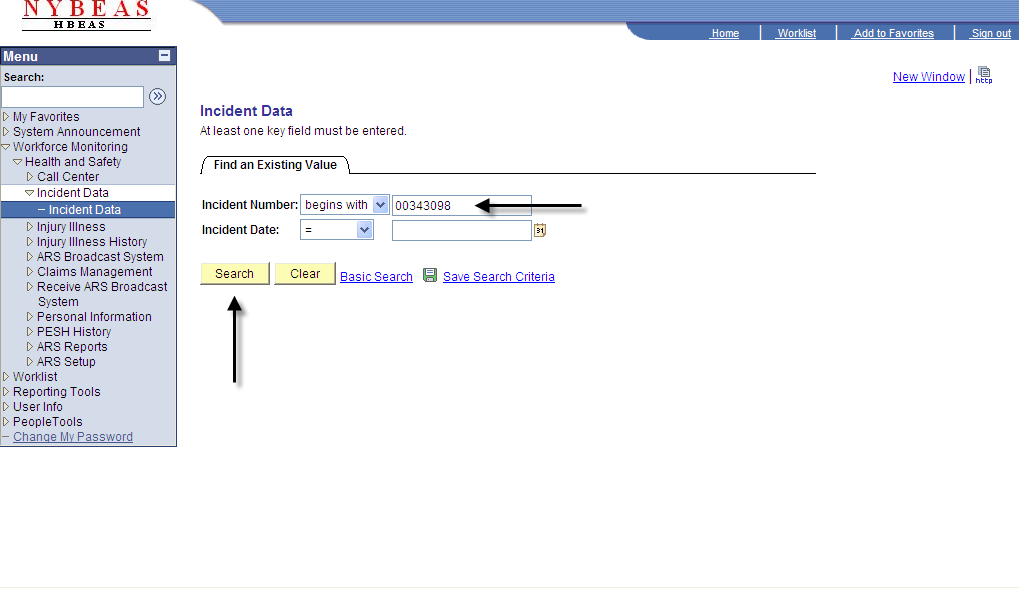 The Incident page will automatically open.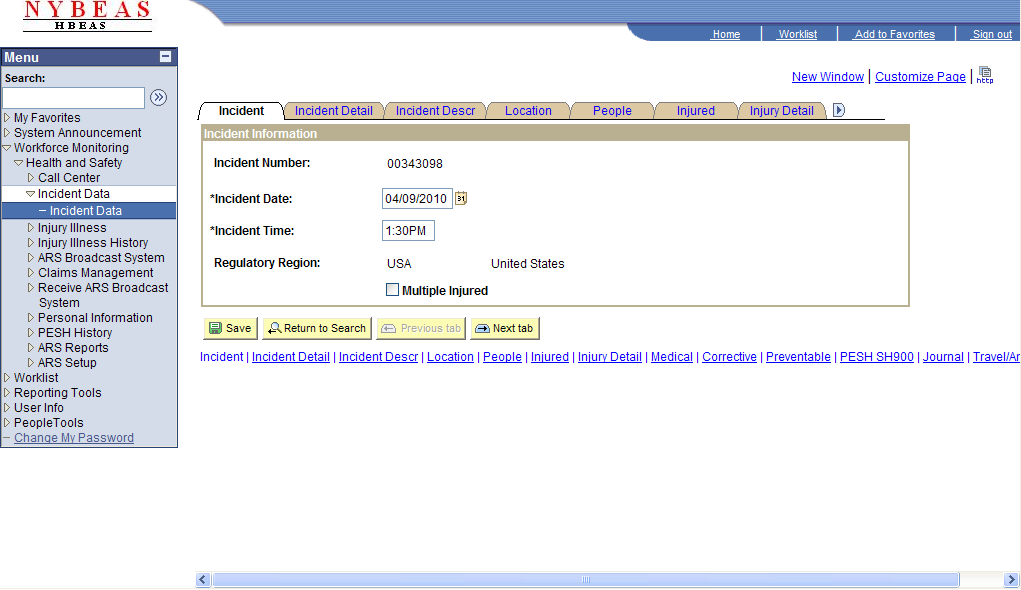 Click on each link below (or in the side navigation menu) to find a step by step description of how to update/correct incident information within each page of Incident Data.