ARS Online Manual
Call Center Intake - Worklist
The Call Center Intake business process displays new incidents entered into the Call Center component of ARS by a Call Center Administrator or an agency's Personnel Adminstrator. The incidents received within this business process should all be reviewed to determine whether or not they require further First Report of Injury (FROI, formerly C-2 Employer's Report of Work-Related Injury/Illness) reporting.
In addition, Personnel Administrators are required to review all incoming incidents in order to determine if all information inputted within the Call Center component is correct and provides a descriptive account of the work-related incident that took place. If the details inputted in Call Center (i.e. date of the incident, the description of the incident, body parts injured, nature of injury or location of the accident) are not correct, they must be changed by the Personnel Administrator receiving the Call Center Intake worklist item. The FROI (C-2) should reflect the "employer's" account of the workers' compensation incident (not necessarily what is reported to the Call Center).
To display all worklist items for the Call Center Intake business process, click on the Detail button next to Call Center Intake.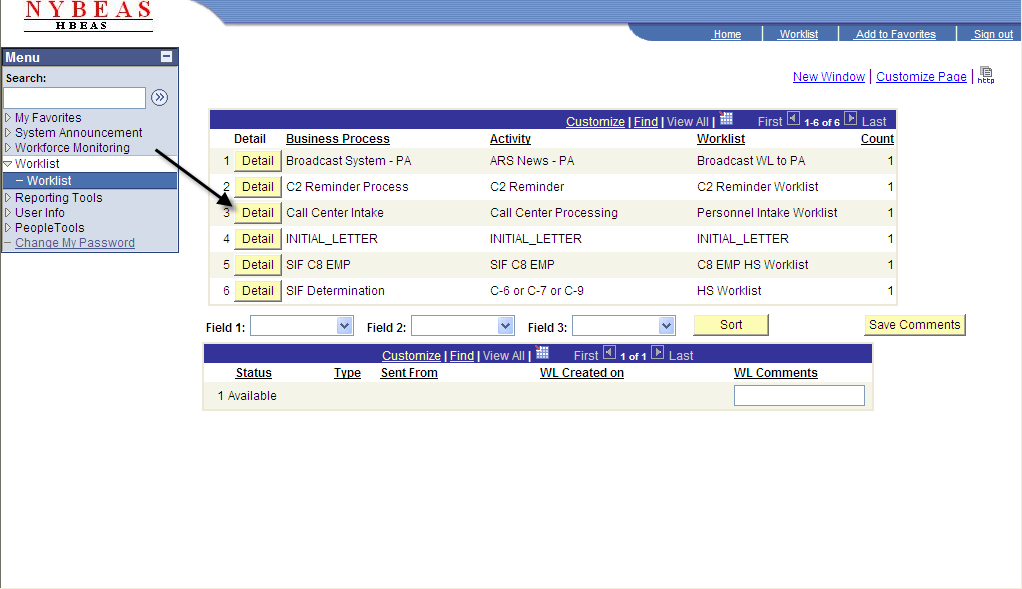 Once the Detail button has been clicked, the Call Center Intake business process will highlight and the corresponding worklist items will appear under the blue Details navigation bar.
The Priority column under the same bar displays the level of urgency for reviewing a new incident. The possible levels are as follows:
1 = Death (The incident is required to be reported to Department of Labor within 8 hours and a FROI (C-2) is required to be sent.)
2 = C-2 Required (If the 'Lost Time Beyond Shift' checkbox located on the Description panel of Call Center is checked and/or the injured employee required 'Medical' treatment, a FROI (C-2) is required to be sent.)
3 = No C-2 required at this time (There was no lost time or medical treatment at the time the incident was entered into Call Center. The worklist item should still be reviewed to determine the information reported is correct and up to date.)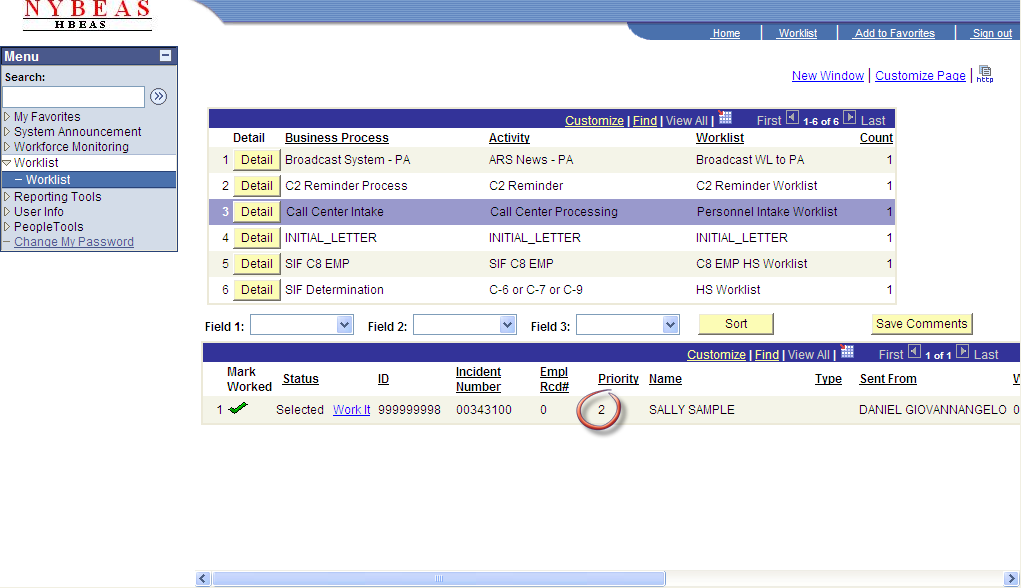 Click Work It to review the new incident.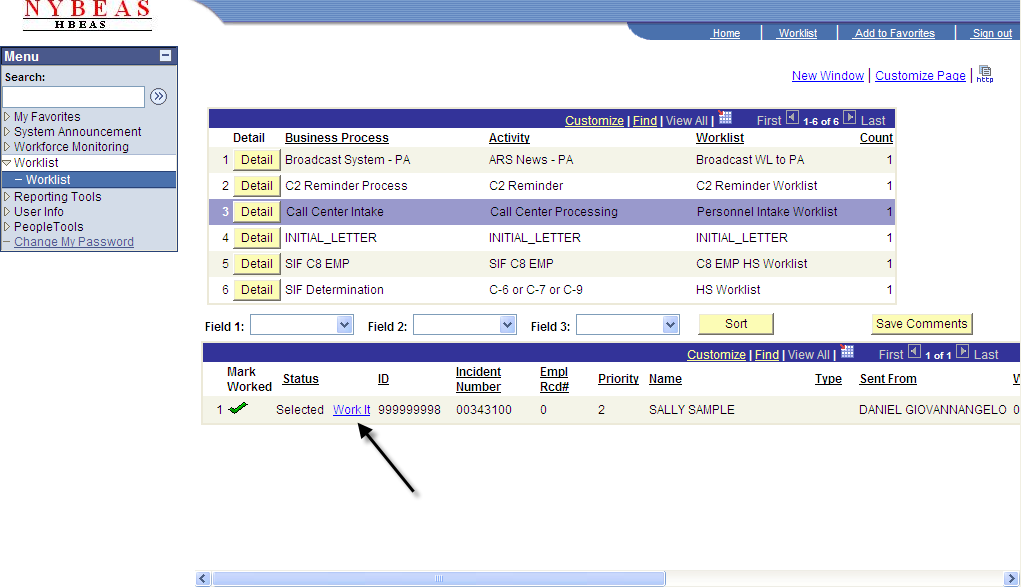 You will automatically be forwarded to the Injury/Illness component of ARS. A FROI (C-2) can be sent from this area. Refer to the Injury/Illness section of this of manual for detailed instruction on entering incident information and completing the C-2 process.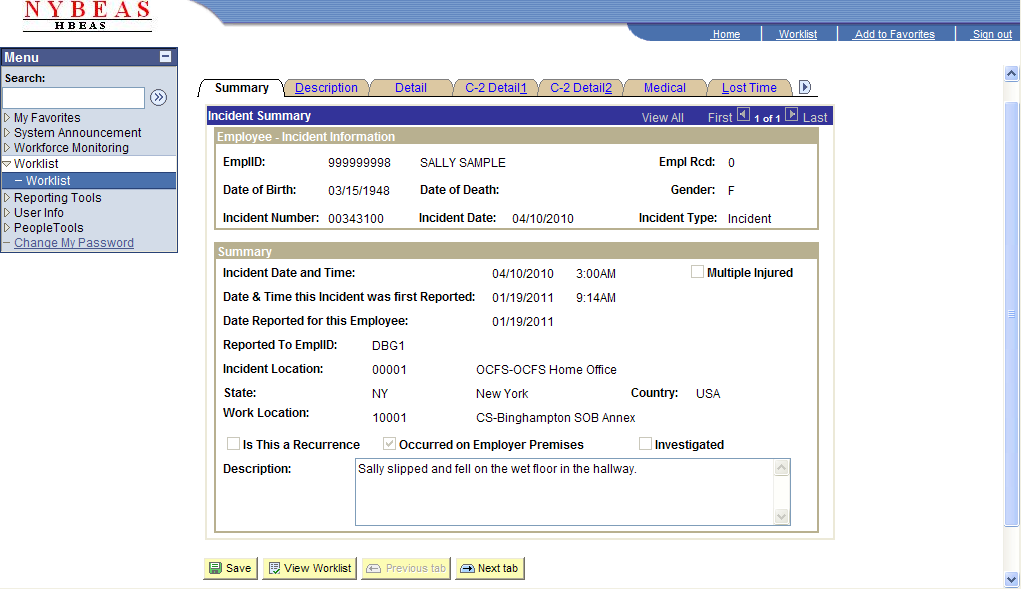 On the Personnel page of the incident, click the Remove from Personnel's Worklist checkbox and then Save to automatically remove the incident's Call Center Intake item from all ARS user's worklists.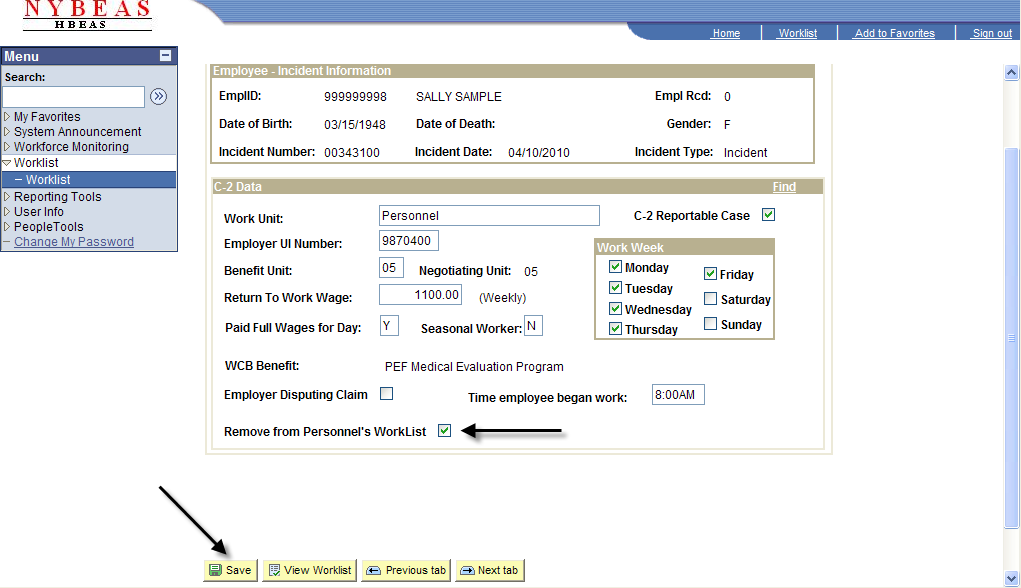 **Note** Removing an item from the Worklist will not delete the incident from the ARS database.
The incident's worklist item can also be deleted within the worklist by hovering your mouse's cursor over the green checkmark icon under Mark Worked.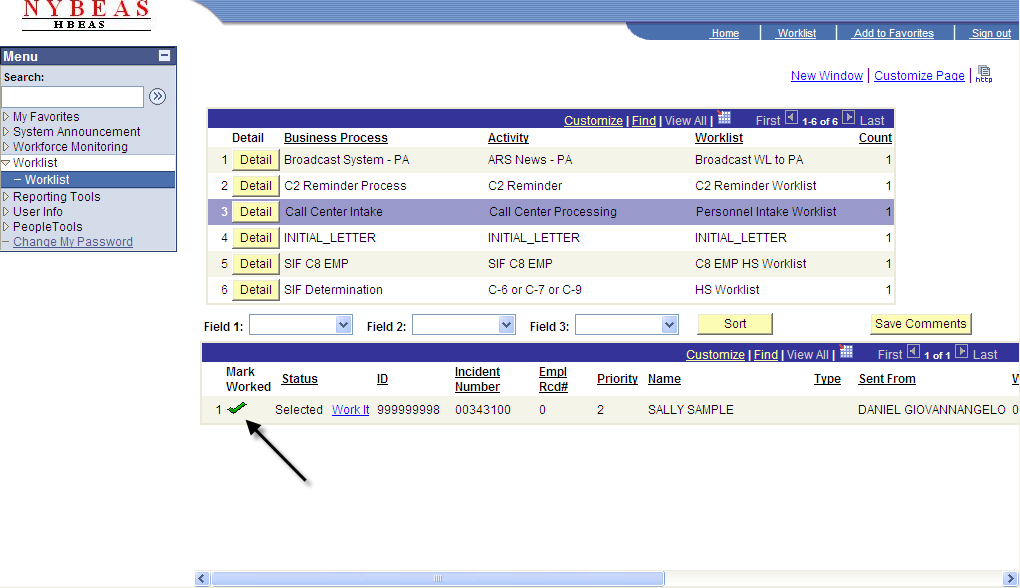 When the green checkmark icon turns to a red X icon, single click on the X.